Here comes the bride...

Cox, Arquette Tie the Knot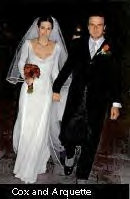 Thanks to E! Online
by Marcus Errico
June 13, 1999, 12:25 p.m. PT
---
A love match made on the set of Scream is officially a howling success.

Friends star Courteney Cox, 34, and David Arquette, 27, were married Saturday [June 12, 1999] in San Francisco.

The not-so-secret nuptials (first reported last week by E! Online's Ted Casablanca) attracted hundreds of fans to Grace Cathedral, where they caught a glimpse of the newlyweds (Courteney wore a white Valentino dress for those keeping score at home) and celeb pals like Paul "Pee-wee Herman" Reubens, Jennifer Aniston and Brad Pitt.

A reception for the 250 guests followed at a vintage-style club stocked with crates of Dom Perignon and a surf-and-turf dinner of lobster and steak.

In the horror hit Scream (and its 1997 sequel), Cox played ambitious TV news reporter Gale Weathers; Arquette played sweet, slow lawman Dewey Riley. Their characters not only survived the requisite bloodbaths (both films' worth), but forged an unlikely coupledom. In real life, the attraction apparently was just as real, if not as unlikely. By October 1998, the Scream teamers were engaged.

It's the first marriage for both.

Cox previously had been linked with Batman star Michael Keaton and Counting Crows singer Adam Duritz.

Arquette, of the acting Arquettes (brother to Rosanna and Patricia), once romanced actress Ellen Barkin.

Cox has costarred on NBC's Friends since 1994. Arquette's recent films include Never Been Kissed and Ravenous; he's also the goofy TV pitchman for AT&T's collect call service.
---
---
Another Report...
'Scream' Stars Wed
.c The Associated Press
---
SAN FRANCISCO (AP) - ``Friends'' actress Courteney Cox wed actor David Arquette on Saturday while hundreds of fans stood outside the church hoping to catch a glimpse of the couple and their celebrity guests.
The marriage took place at Grace Cathedral, followed by a party at a 1930s speakeasy-style club where the newlyweds and 250 guests drank Dom Perignon and dined on steak and lobster.
Ms. Cox wore a white Valentino dress.
Among those who attended were ``Friends'' actress Jennifer Aniston and her boyfriend, Brad Pitt; actor Richard Benjamin and his wife, Paula Prentiss; and Paul ``Pee-Wee Herman'' Reubens.
The couple met on the set of the 1996 horror comedy ``Scream'' and appeared together last year in the film's sequel. Arquette, 27, proposed to Ms. Cox, 34, on a Florida beach.
Ms. Cox has co-starred on the TV show ``Friends'' since 1994. Arquette, the brother of actresses Patricia and Rosanna Arquette, recently appeared with Drew Barrymore in the film ``Never Been Kissed.''
---
HOME